Certified Organic
Free from harmful substances and chemicals, they provide a safe and comfortable environment for your family and pets.
Machine Washable
Simply toss your rug into the washing machine, and watch it emerge fresh, clean, and ready to enhance your space once again.

Long Lasting
Designed to withstand the rigors of everyday use, these rugs retain their beauty and functionality for years to come.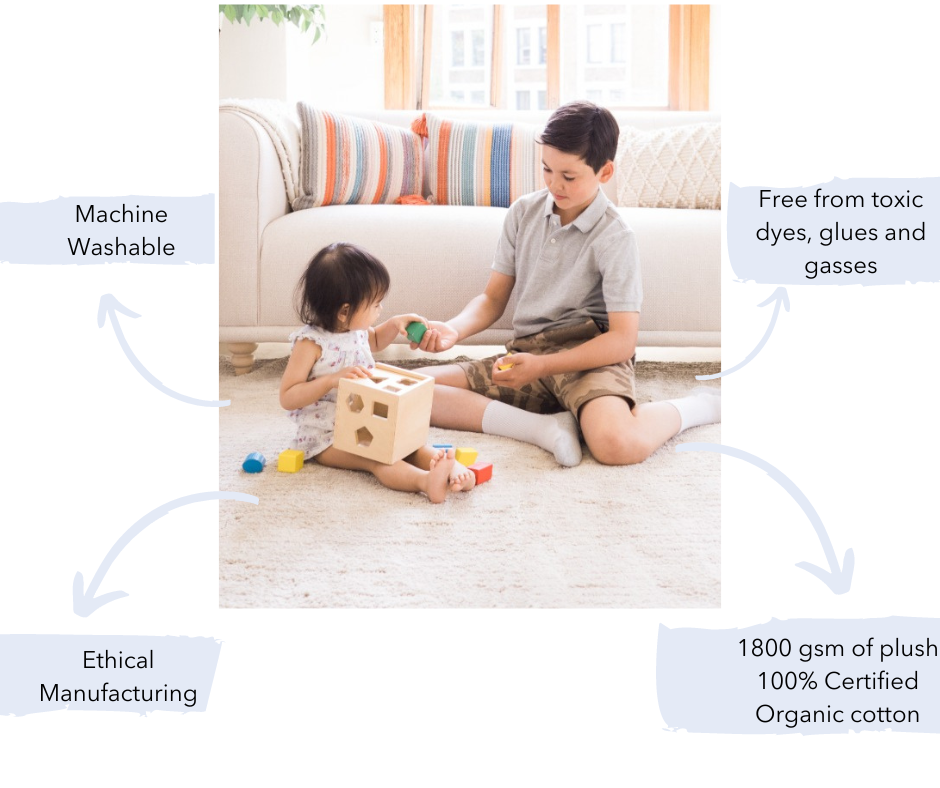 Choose Your Colour
Satisfaction guaranteed with our 30 days return policy



Over the rainbow with these rugs
"As a first time mom I was a little lost on the nursery front. Valuing non-toxic and ethically sourced materials, these rugs hit all the marks.

Our eco-friendly materials and responsible manufacturing processes ensures your home is both beautiful and kind to the planet
Did you know?
80% of rugs on the market contain some form of toxic chemical including:
Pesticides
Non-organic cotton rugs poses a hidden concern that often goes unnoticed: the use of pesticides and insecticides. Exposure to these chemicals has been linked to respiratory problems, skin irritations, and cancer.
Formaldehyde
This chemical is used in some rugs as a bonding agent, but it can off-gas and cause respiratory irritation, eye irritation, and allergic reactions.
Flame Retardants
Certain rugs may contain flame retardant chemicals that have been linked to hormone disruption, reproductive issues, and neurodevelopmental problems.
VOCs
Volatile Organic Compounds (VOCs) are emitted as gases from various synthetic materials used in rugs, including adhesives, dyes, and coatings. Prolonged exposure can lead to headaches, dizziness, and respiratory issues.
PFAS
PFAS can be present in rugs as stain or water repellents. Exposure to PFAS chemicals has been linked to a range of adverse health effects, including liver damage, immune system dysfunction, hormonal disruptions, cancer and reduced fertility.

Our Planet
Have you considered where your rug goes at the end of it's life? Instead of going to landfill, our rugs go back into the earth

What do you know about Goodweave?
One of our ultimate goals is to end child labour permanently around the world including sectors outside of the rug industry.
Read more